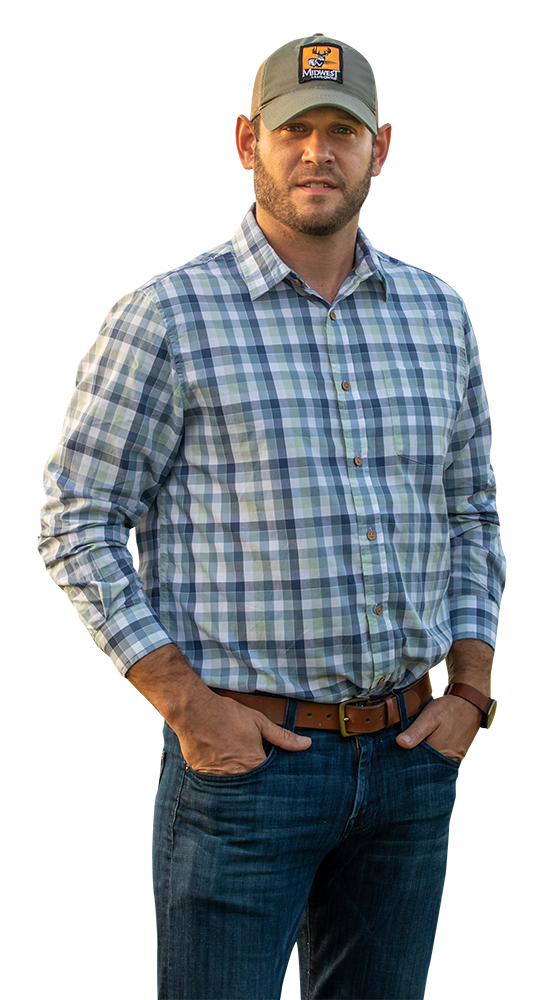 Justin Lombard
Serving Kansas and Missouri
Born into a farming family in Southwest Missouri, Justin Lombard quickly developed a love for the outdoors and became a lifetime fisherman. Learning how to hunt quail was a highlight of his childhood and, as he grew into adulthood, he became consumed with bowhunting whitetails. He graduated from Blue Valley Northwest High School in Overland Park, Kansas, and attended the University of Kansas. Before coming to Midwest Land Group, Justin was a licensed general contractor specializing in residential remodeling and investment properties.

What truly makes Justin Lombard stand out is his creativity. A commissioned portrait artist and painter with an eye for everything outdoors, Justin not only sells originals and prints but also donates to the Kansas Horse Council's fundraising auctions. This ability to think outside the box allows Justin to provide timely and unique solutions for his clients. As a land agent, Justin works tirelessly to surpass the expectations of his clients, using direct and honest communications to ensure a successful working relationship. Buyers and sellers alike benefit from quick and easy access, as well as guaranteed follow through.

Justin lives in Overland Park, KS, with his wife, Jill, and daughters, Madelyn and Vivienne. When he's not working, this QDMA member can be found hunting, fishing, hiking, painting, or coaching his oldest daughter's softball team.
View all current listings for this agent
Properties Recently Sold by Justin
80 +/- Acres of Prime Deer Hunting in Osage County, Kansas

Acreage:

80

County:

Osage

State:

KS

Leavenworth 40.5 (Tract 1)

Hilltop Build Site and Plenty of Room for Recreation in Leavenworth County

Acreage:

40.5

County:

Leavenworth

State:

KS

61 +/- Acres of Hunting and Recreation in Northern Linn County

Acreage:

61

County:

Linn

State:

KS
View All Sold Properties