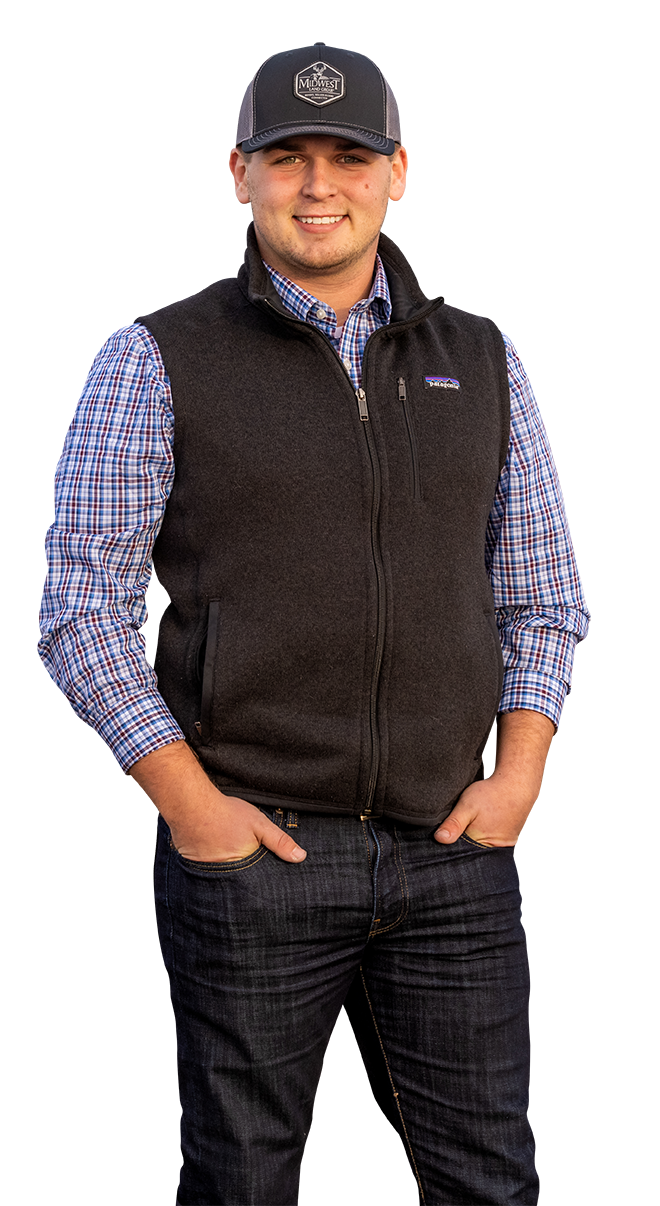 Cole Schumacher
Serving Central and Western Kansas
An avid hunter, Cole spends his free time outdoors. He loves chasing giant whitetails and other big game, as well as turkey and upland hunting. Born in Hays, Kansas, Cole enjoys scouting and running cameras across the state, as well as shed hunting, doing conservation work and habitat improvements on the family farm, and introducing youth to the great outdoors. With a knack for harvesting world-class whitetails, Cole has killed two bucks over 200" and many over the Boone & Crockett mark.

Cole attended Fort Hays State University where he earned his Bachelor's degree in Biology, researching fawn recruitment and mortality in whitetail deer, mule deer, and elk. While in school, Cole worked in the state conservation department, helping manage and improve local state wildlife areas. After earning his Bachelor's degree, Cole pursued a career in land real estate to fulfill his passion for land and its native inhabitants. At Midwest Land Group, he's able to bring extensive knowledge on all things outdoors, thanks to a lifetime immersed in hunting, agriculture, and ranching.

This driven agent strives to make both buyers and sellers leave the table with a smile on their face. Between his grasp on creating and improving farms, from food plot placement to improving native cover, and his vast network of landowner relationships, Cole is able to help his clients plan their next move. If you're ready to buy or sell, give Cole a call.
View all current listings for this agent
Properties Recently Sold by Cole
Quality Cropland Tract with Little Waste

Acreage:

190

County:

Graham

State:

KS

Quality Northwest Kansas Grassland Tract

Acreage:

130

County:

Graham

State:

KS

Small Hunting Farm with Income

Acreage:

75

County:

Graham

State:

KS
View All Sold Properties