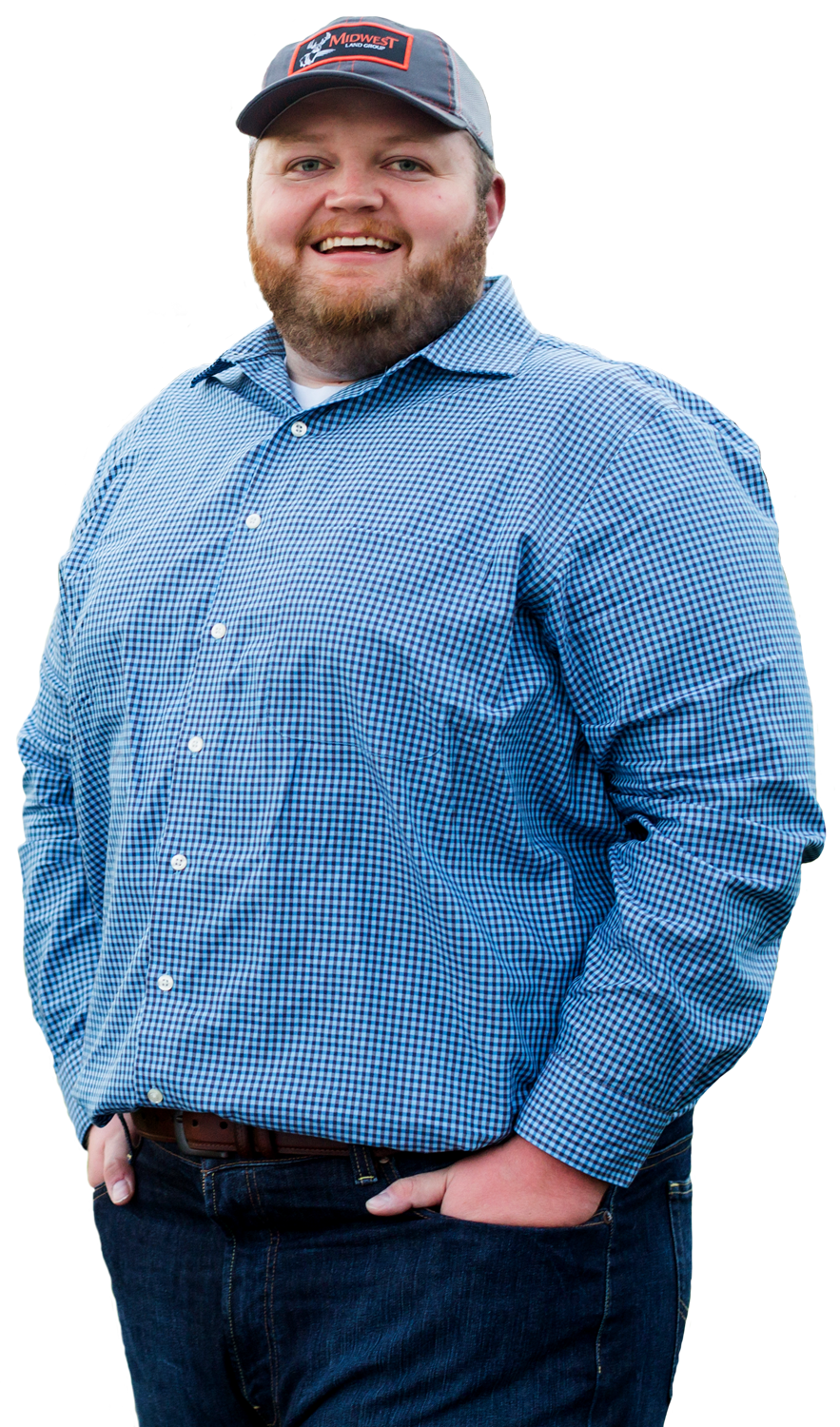 Brett Roberts
Serving Northwest Missouri
Having his grandfather's 200-acre Ray County farm in the family since he was born, Midwest Land Group agent, Brett Roberts knows two things for sure. One, selling property, especially when it's been in the family for as long as some people can remember, isn't just a real estate deal. It's a major life decision. Two, buying land in Northwest Missouri has the potential to become a buyer's family legacy. Brett can relate to both. He listens to buyers to find out what they want in a property so generations to come have a connection to it, and he understands a sale can be emotional for sellers and their families. Brett says, "I pay close attention to what people want out of buying or selling property and how they want the transaction to happen. There are no two listings in the world, much less Northwest Missouri, that are alike. I've traveled Missouri, Kansas, Iowa and beyond following waterfowl migration. Between that and learning how to manage land for deer and turkey from the masters (my grandpa, dad and uncle), I'm a great resource on how to make a piece of land a better investment or hunting property."

While a good portion of Brett's life has been spent on the farm, hunting waterfowl, deer and turkey, he spent just as much time at Kauffman Stadium. Brett is a Kansas City native, and par for the course, a Royals fan. However, Brett's no ordinary fan. He held a dream job throughout high school and college as a Kansas City Royal's locker room attendant for visiting teams. He studied recreation and sports management at Missouri Western State University, and also interned for the Kansas City Chiefs. The experience gave him the opportunity to meet many celebrities across music, movies and sports. "Will Ferrell, Luke Bryan, Charlie Sheen and Zac Brown were some of the most memorable, plus all the players from the visiting teams," recalls Brett. His position with the Royals involved unpacking gear, cooking meals, running errands and doing whatever else the players needed while in town. Suffice it to say that Brett knows hospitality and pays attention to details.

The draw to be outdoors was too great, which led him to a career as a land agent where he combines his interest for meeting new people with his passion for land and hunting. Brett is an avid waterfowl, upland birds, deer and turkey hunter, a Ducks Unlimited member and former board member for the 210 Duck Club, Orrick, Missouri. "If you want to be a successful hunter, you have to build a habitat that supports game and fowl," explains Brett. He's scouted enough land to know what those habitats are. Following waterfowl migration patterns is his favorite pastime, along with spending time with fiancé, Laura, and his family. If you're thinking about selling property, family land or not, or purchasing property for hunting or an investment, Brett knows what to do. Give him a call today.
View all current listings for this agent
Properties Recently Sold by Brett
Tremendous Build Site Just Minutes from Excelsior Springs

Acreage:

8

County:

Clay

State:

MO

3 Acre Build Site/Investment in Ray County, Missouri

Acreage:

3

County:

Ray

State:

MO

Multi-Use 70 +/- Acres in Ray County, Missouri

Acreage:

70

County:

Ray

State:

MO
View All Sold Properties