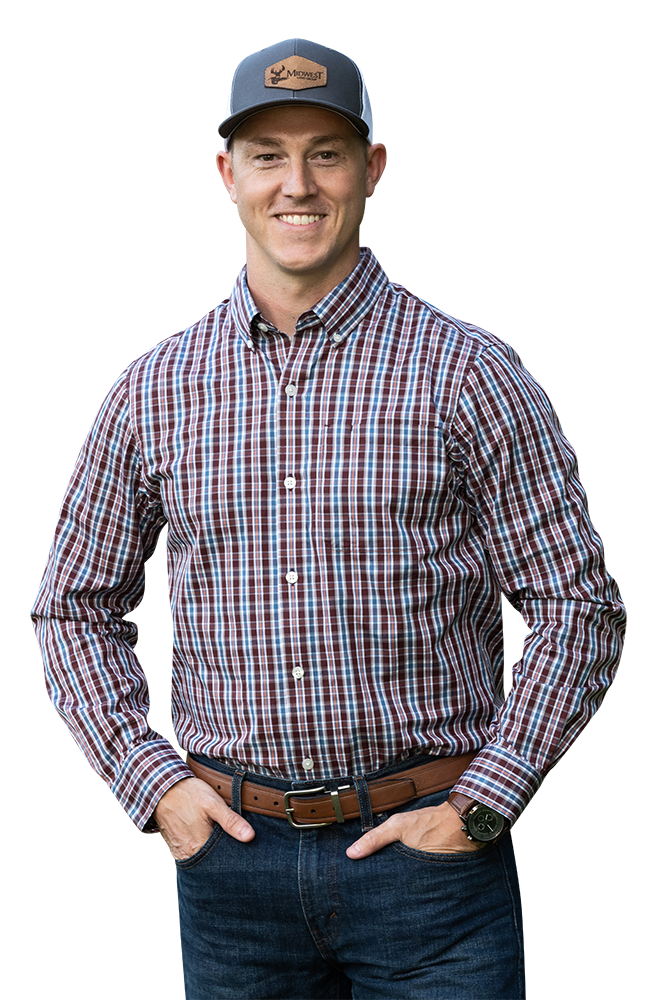 Michael Young
Serving Southern Illinois and East Central Missouri
Michael Young is such an outdoors enthusiast, he has a personal motto: "I leave the land better than when I arrived." With many years of experience hunting, developing and managing properties, Michael's passion runs deep - improving habitat, food sources, timber stand and overall appearances. His knowledge of TSI and CRP programs, planting fruit trees, prescribed burns, food plots, row crops, watering holes, and establishing trails for access make him truly one of a kind. He's handled and implemented management goals for farms of hundreds of acres for year-round growth for wildlife and habitat, and brings that experience to every transaction he handles.

Born in Alton, Illinois, Michael graduated from East Alton – Wood River Community High School and attended Lewis and Clark Community College. He was in law enforcement for several years, serving as cadet, dispatch, canine handler and patrolman. Throughout his tenure, Michael developed a keen ability to problem solve and, thus, received life-saving and acts-of-service awards for his service to the community. Each of these skills he maintains to this day at Midwest Land Group, all while maintaining professionalism and effective communication, and continues to earn the trust of his clients.

Michael knows there's something special about owning land, no matter the size. Clients come to him to buy or sell recreational, hunting, investment, and livelihood properties because they know he's devoted to achieving their goals. Outside of work, if Michael's not hunting, fishing, hiking, kayaking, traveling, or managing land, he's spending time with his fiancé, Donia, helping coach his son Hunter's baseball team and following his daughter Haylee's competitive dance adventures.
View all current listings for this agent
Properties Recently Sold by Michael
Madison .6 - 991 Prestonwood Drive

Lincoln Knolls Subdivision Stunning Home

Acreage:

.6

County:

Madison

State:

IL

Custom Home on a Phenomenal Tract

Acreage:

30

County:

Madison

State:

IL

Ultimate Recreational Property with Great Income

Acreage:

120.5

County:

Greene

State:

IL
View All Sold Properties