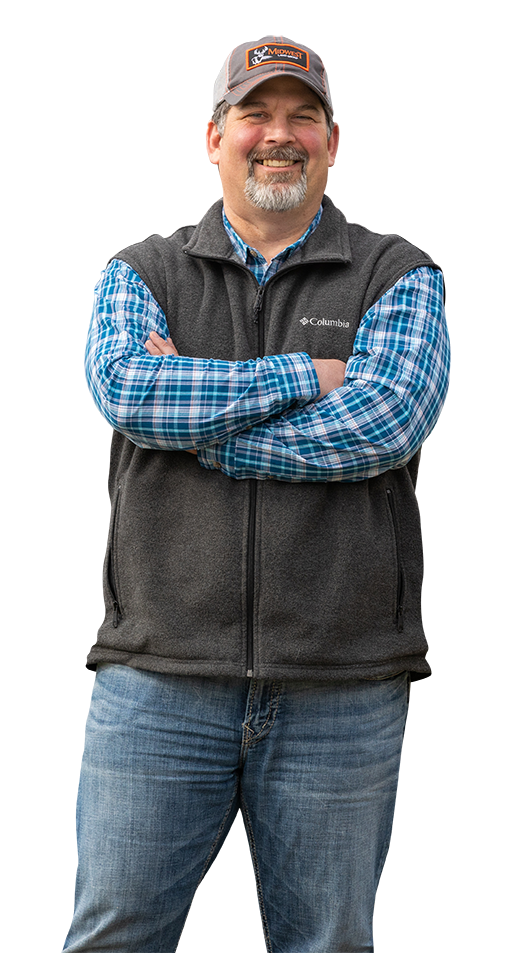 Kent Brant
Serving Iowa & Minnesota
Kent Brant's passion for land knows no bounds. Having grown up on a farm, he learned at an early age what benefits can come from a hard work ethic. Growing up, Kent had many opportunities to build his knowledge of farming as his parents raised sheep, had a farrow-to-finish hog operation, ran a successful egg business selling to local markets, and learned how to ride and drive teams of horses and mules. Today, he is still involved in his dad's raising of Simmental/Angus in their cow/calf operation.

After a 16-year career in sales and insurance, Kent decided to put his love for hunting and the outdoors at the forefront and follow his passion into land real estate. His knowledge of farming, livestock, hunting, and the outdoors allows him to connect with land buyers and sellers on every level. Combine that with his extroverted personality and drive to succeed, and Kent offers an enjoyable, timely, and efficient real estate experience.

When he's not working the land, you can find him volunteering for the Iowa Barn Foundation, helping barn owners find grants, restore old barns, and keep part of the heritage intact. An avid shed hunter, bow hunter, outdoor photographer, traveler, and more, Kent enjoys spending time outdoors with friends, family, and clients.
View all current listings for this agent
Properties Recently Sold by Kent
Calhoun .689 - 908 3rd St

3 Bedroom Home on Corner Lot in Lohrville, Iowa

Acreage:

.689

County:

Calhoun

State:

IA

Classic Country Acreage in Carroll County Iowa

Acreage:

5.14

County:

Carroll

State:

IA

Carroll 2.84 - 101 3rd St

Beautiful Home on a Small-Town Acreage

Acreage:

2.84

County:

Carroll

State:

IA
View All Sold Properties