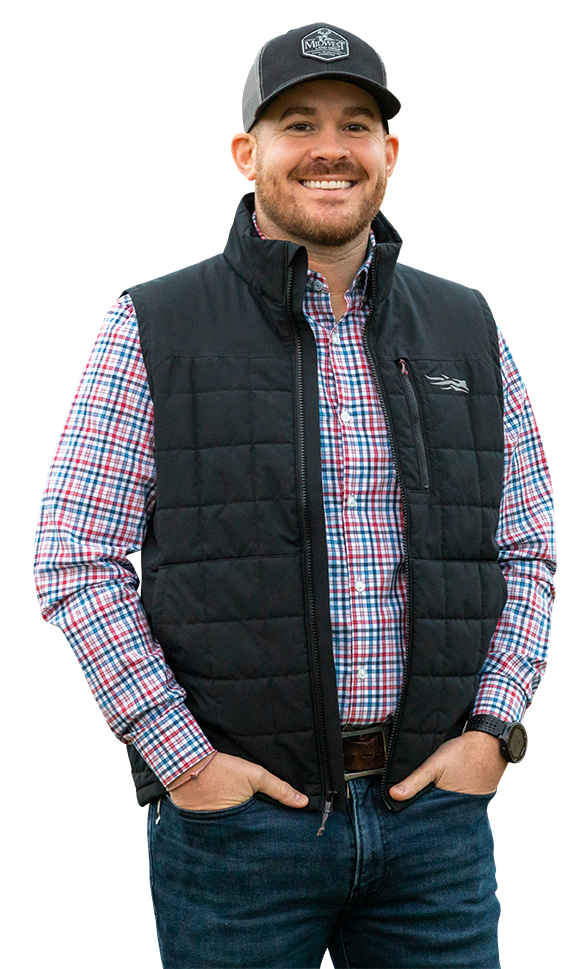 Clay Stansberry
Serving Eastern Missouri
Clay Stansberry has an eye for seeing potential. Whether it be for specific hunting needs or a turnkey property, he can visualize all the exciting opportunities a piece of land can bring. Whether a client is buying their first hunting property or selling their family's century farm, he understands the emotional ties and commitment required, treating each situation personally as if it were his own investment.

Born in Moberly, Missouri, Clay had the fortune of growing up hunting on many farms in central and northeastern Missouri, giving him a solid understanding of what exactly to look for in a property. He attended Moberly Senior High School and earned an athletic scholarship to Columbia College. Clay served as an operations manager for 10 years, during which time he coached youth sports. Having spent his entire life surveying farms, he is fulfilling his passion of working with the outdoors as a land agent at Midwest Land Group.

Clay lives in the St. Louis area and, when not working, he's either bowhunting, fishing, or playing golf. If you're in the market to buy or sell and are looking for someone who's just as passionate about land as you, be sure to give Clay a call. He'll do everything it takes to ensure you're well-represented and that your transaction goes smoothly.
View all current listings for this agent
Properties Recently Sold by Clay
Turn-Key Recreational Getaway

Acreage:

196

County:

Washington

State:

MO

Acreage and Build Site in Augusta

Acreage:

54.21

County:

Saint Charles

State:

MO

Large Timber Tract in a Prime Location

Acreage:

270

County:

Saint Francois

State:

MO
View All Sold Properties